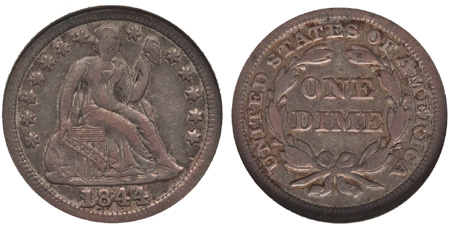 The 1844 Liberty Seated Dime (Buy on eBay) with a mintage of 72,500 pieces was nicknamed "Little Orphan Annie." The issue was heavily promoted and the object of numerous implausible scenarios to explain why the coins were even more scarce than the mintage suggested. The tradition and controversy surrounding the issue have made it more popular and valuable than it would have been otherwise.
First of all, the mintage of this issue was not remarkably low, as only two years later the 1846 dime would have a mintage of 31,300 coins. Secondly, enough 1844 dimes seem to have survived to make it a relatively available coin, despite its low mintage. Finally, the issue did not receive any serious attention from collectors until 1930, when Frank C. Ross began publicizing the issue and coined its nickname.
Ross had apparently hoarded the 1844 dime, and then coined the nickname, describing the issue as under appreciated by contemporary collectors. He offered explanations for the scarcity of the issue such as a large number being buried, washed away in a flood, melted into jewelry in Mexico, sunk to the bottom of the ocean, or melted in the Chicago fire. All of these stories and the subsequent controversy over the 1844 Liberty Seated Dime brought much collector interest, which remains to this day.
The finest known examples are a handful that have been graded MS65. Most recently one of these pieces sold for $26,450 at auction in March 2009.
Coin Specifications
Designer: Christian Gobrecht
Composition: 90% Silver, 10% Copper
Weight: 2.67 grams
Diameter: 17.9 mm
Edge: Reeded