The 1844 Liberty Seated Dime (Buy on eBay) is a popular issue of the series, nicknamed "Little Orphan Annie." The issue was heavily promoted with numerous implausible scenarios to explain why the coins were scarcer than the mintage suggested. These stories and resulting attention drawn to the issue have made it more popular and valuable than it would have been otherwise.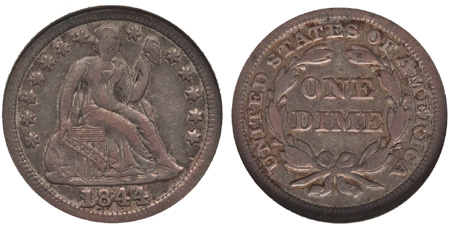 The mintage of the 1844 dime was 72,500 pieces, which was at the low end for the series, but not remarkably low. Only two years later, the 1846 dime would have a mintage of 31,300, and two issues in the 1860's would have a mintage below 10,000. The issue did not receive any serious attention from collectors until 1930, when collector Frank C. Ross came up with the memorable nickname and began publicizing the coin as a great rarity.
Ross had apparently hoarded the 1844 dime and then went about describing the issue as underappreciated by contemporary collectors. He offered various explanations for the scarcity of the issue such as a large number being buried, washed away in a flood, melted into jewelry in Mexico, sunk to the bottom of the ocean, or melted in the Chicago Fire. All of these stories and the subsequent controversy over the 1844 Liberty Seated Dime brought much attention and intrigue.
For present day collectors, the issue is relatively abundant, although it does remain elusive within higher uncirculated grades. There are only a handful of gems certified and a single example graded PCGS MS66, which most recently sold for $31,725 in 2016.
Coin Specifications
Designer: Christian Gobrecht
Composition: 90% Silver, 10% Copper
Weight: 2.67 grams
Diameter: 17.9 mm
Edge: Reeded