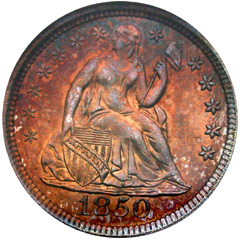 The Liberty Seated Dime was produced for more than five decades at four different mint facilities with numerous small design changes taking place periodically. This lends to a wide range of mintage levels during the course of the series.
The lowest mintages for the series occurred at the Philadelphia Mint during the years of the Civil War, culminating at the absolute low of 6,000 pieces struck during 1867. A unique rarity for the series also exists with the 1873-CC No Arrows Liberty Seated Dime. The Carson City Mint had initially struck 12,400 examples of the coin, however after a change in the standard weight, all of these pieces were melted except for one known example.
During the series there are six different issues with a mintage greater than ten million. The first occurred for the 1853 dime with arrows at 12,078,010. Production was higher following a decrease in the standard weight for the denomination. The other five high mintage issues occur later in the series after the final design modification placed the legend on the obverse of the coin.
The mintages for each issue of the Liberty Seated Dime series appear following with headings to denote the significant design changes.
No Stars on Obverse
1837
682,500
1838-O
406,034
Stars on Obverse
1838
1,992,500
1839
1,053,115
1839-O
1,323,000
1840
981,500
1840-O
1,175,000
1840
377,500
1841
1,622,500
1841-O
2,007,500
1842
1,887,500
1842-O
2,020,000
1843
1,370,000
1843-O
150,000
1844
72,500
1845
1,755,000
1845-O
230,000
1846
31,300
1847
245,000
1848
451,500
1849
839,000
1849-O
300,000
1850
1,931,500
1850-O
510,000
1851
1,026,500
1851-O
400,000
1852
1,535,500
1852-O
430,000
1853 No arrows
95,000
Arrows at Date
1853 With Arrows
12,078,010
1853-O
1,100,000
1854
4,470,000
1854-O
1,770,000
1855
2,075,000
Stars on Obverse
1856
5,780,000
1856-O
1,180,000
1856-S
70,000
1857
5,580,000
1857-O
1,540,000
1858
1,540,000
1858-O
290,000
1858-S
60,000
1859
430,000
1859-O
480,000
1859-S
60,000
1860-S
140,000
Legend on Obverse
1860
606,000
1860-O
40,000
1861
1,883,000
1861-S
172,500
1862
847,000
1862-S
180,750
1863
14,000
1863-S
157,500
1864
11,000
1864-S
230,000
1865
10,000
1865-S
175,000
1866
8,000
1866-S
135,000
1867
6,000
1867-S
140,000
1868
464,000
1868-S
260,000
1869
256,000
1869-S
450,000
1870
470,500
1870-S
50,000
1871
906,750
1871-S
320,000
1871-CC
20,100
1872
2,395,500
1872-S
190,000
1872-CC
35,480
1873 No Arrows
1,568,000
1873-CC No Arrows
Unique
Arrows at Date
1873
2,377,700
1873-S
455,000
1873-CC
18,791
1874
2,939,300
1874-S
240,000
1874-CC
10,817
Legend on Obverse
1875
10,350,000
1875-S
9,070,000
1875-CC
4,645,000
1876
11,460,000
1876-S
10,420,000
1876-CC
8,270,000
1877
7,310,000
1877-S
2,340,000
1877-CC
7,700,000
1878
1,677,200
1878-CC
200,000
1879
14,000
1880
36,000
1881
24,000
1882
3,910,000
1883
7,674,673
1884
3,365,505
1884-S
564,969
1885
2,532,497
1885-S
43,690
1886
6,376,684
1886-S
206,524
1887
11,283,229
1887-S
4,454,450
1888
5,495,655
1888-S
1,720,000
1889
7,380,000
1889-S
972,678
1890
9,910,951
1890-S
1,423,076
1891
15,310,000
1891-O
4,540,000
1891-S
3,196,116